Pocklington Arts Centre Costume Change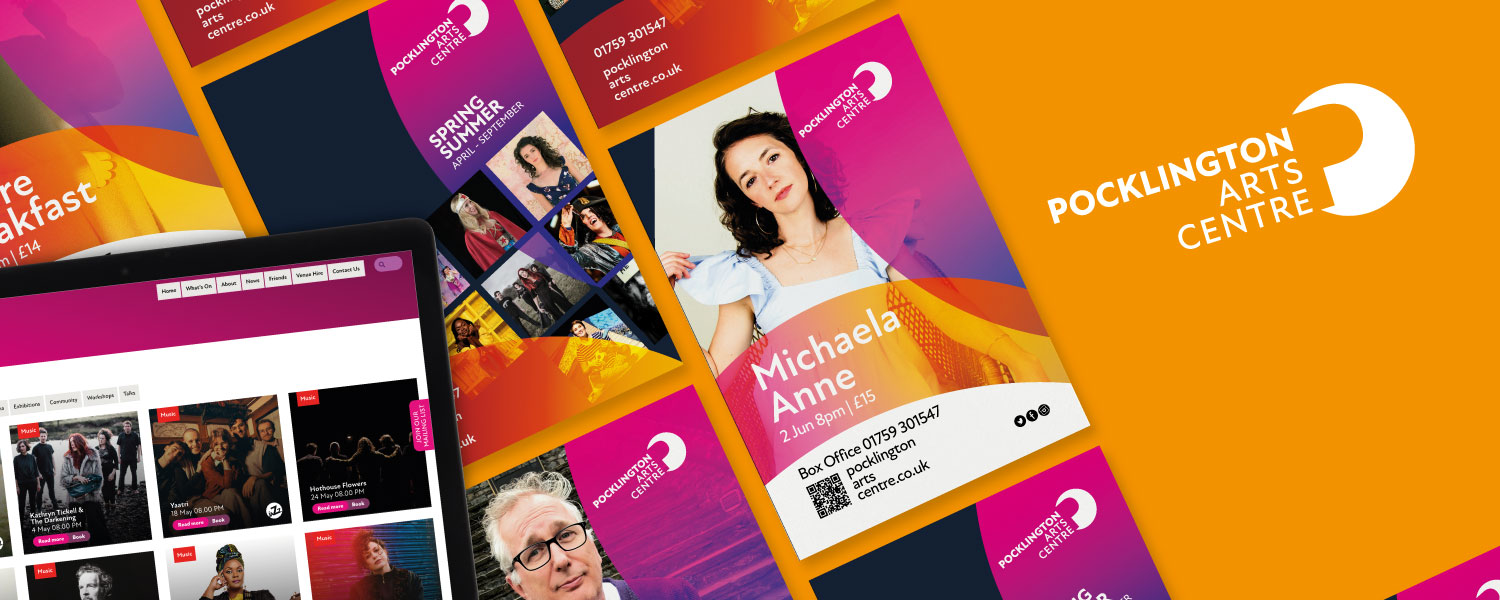 Pocklington Arts Centre are excited to reveal a fresh new look to all design, print, and (soon to follow) website.
The development of a contemporary, iconic logo responds to the need to engage new audiences and the demand for clarity and definition in a booming, fast-paced online experience.
Following a thorough briefing and selection process, three design agencies were identified to respond to the nuances of delivering a strong iconic presence which would honour the heritage and reputation of Pocklington Arts Centre, whilst appealing to new audiences unfamiliar with the respected and well-beloved East Yorkshire venue.
Red Bonsai – a creative branding and graphic design studio based in Pocklington – were ultimately selected to develop their proposed concepts. Creative Director, Ashley McGovern, says, "We were really pleased to be selected to work with the management team to rebrand this unique venue. I have always enjoyed and admired the Arts Centre, being a regular audience member. This distinctive venue brings some significant names to the East Riding, and with Pocklington also being our design studio's hometown, we jumped at the chance".
"The new identity illustrates the flexibility and multi-purpose use of the Arts Centre. Picking up on historical references, we sought to characterise this in a simple gobo (a type of theatrical stage lighting) stencil style graphic. The identity will be used throughout all marketing collateral, on all printed material, on the new website, social media, interiors, and the building fascia signage. We are currently working on animated screen idents!"
"The new branding is designed to engage with a broader audience. The fresh new look is aimed at ensuring the continued relevance and ambition of the Arts Centre here in Pocklington."
To coin the phrase Rome wasn't built in a day – Pocklington Arts Centre have committed to rolling out this new look over the coming months, with the NEW What's On posters and Spring brochure arriving Monday 17th April with a glimpse of the new design style and logo.
As part of their commitment to environmental impact of print and paper wastage, distribution will be carefully monitored and regularly reviewed as they acknowledge a considerable uplift in online browsing and booking, but there will be a stock of brochures available to pick up during Box Office opening hours:
Tuesday, Wednesday, Friday: 10am - 4pm, Thursday: 10am – 5pm, and Saturday: 10am - 1pm
Angela Stone, Venue Director of Pocklington Arts Centre, says, "We are grateful to have received funding from ERYC Arts Development Fund to create refreshed brand guidelines which have been devised to deliver maximum impact using a design template, reducing our ongoing design costs and delivering a much more intuitive, user friendly website experience"
"Watch this space for updates on how we will translate this clear design language throughout the building to improve directional signage and our intentions to create a flow from the outside of the building, through the foyer, into box office, and beyond! We're excited to welcome our patrons to join us on this exciting new journey."